TalkTalk free webspace no longer available
Since writing this article about TalkTalk's free webspace, it's come to light that "new" users aren't offered this little perk. I'm not sure what a "new" user is though. I've been informed that the free webspace offering stopped for new customers back in 2015. For those with older accounts, you may still have access. At the time of writing (February 2018), our webspace was still operational.
TalkTalk - free webspace
Here's a little bit of information you may be interested in if you use TalkTalk as your broadband supplier. As part of your contract with them, you get 15meg of free web hosting. This isn't exactly a generous amount of space - but can come in handy if you've got a club or small business you'd like a website for, but don't want to fork out your hard earned cash!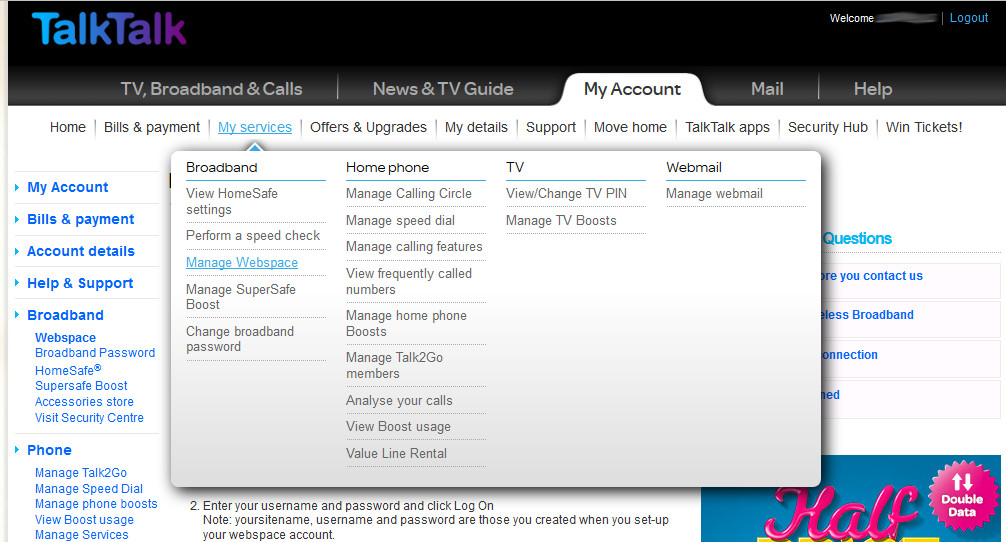 Your free web space (or web hosting) from TalkTalk
What is TalkTalk webspace
The free webspace from TalkTalk allows you to host a website for the world to see! The webspace you have is very basic - there isn't any "web page builder" installed, so to get things working you will need a basic knowledge of HTML.
The 15meg allowance you're given won't allow you to run the BBC website, but it could well be enough for a small website, with a few pages of information. It's the images which take up lots of space, so keeping the images to a minimum will allow you to have more pages.
The name of your website
The name of your free TalkTalk webspace site is a sub-domain of TalkTalk. In English this means your website will be called [yourname].talktalk.net; where [yourname] is the name you choose.
Put it all together
The tools you need to get your TalkTalk free webspace up and running are all freely available. So with a little perseverance and effort your webspace will soon be available for everyone to see.
Configure your website name within the account management section your TalkTalk account. This should be something like "my services" > "Broadband" > "Manage Webspace". The image at the top of the screen is a screen-shot of our account screen, which may well help.
Create your website. Notepad (which comes free with Windows) is all you need to edit some basic HTML. You may find it useful to use a HTLM template for your screen layout - see the TalkTalk Webspace example below.
Transfer (or, to use the technical acronym FTP) your HTML onto the TalkTalk Webspace server. Filezilla is the tool we use to FTP files.

That's it. your TalkTalk webspace is up and running. This is a very basic guide to using your TalkTalk webspace - it may take a little perseverance to get things up and running.



This is our TalkTalk webspace -

internetaffiliation.talktalk.net




Example of TalkTalk Webspace being used

As you've probably guessed, we've setup a few pages on the TalkTalk webspace! You can our own website at internetaffiliation.talktalk.net.

The design was created using the Pure.CSS template, which makes setting up a website much easier, as you don't need to know an awful lot of HTML to get up and running. The exact template we used was the Pure.CSS "Marketing" template.

If you're trying to setup your own TalkTalk free webspace project, but you're spending more time crying into your keyboard than getting your TalkTalk webhosting working, send me an email at john@ial.world and I'll try to help. I wouldn't say I was a complete guru with the TalkTalk Webspace, but I have got our own site up and running.





---




This is how you trnasfer files to your TalkTalk account




Transfering your files to the TalkTalk 15meg free webspace

These are the instructions from TalkTalk on how to set-up your Webspace:


How to upload pages to your website

Uploading a website to your web browser:

Open a web browser, such as Internet Explorer, and go to ftp://www.yoursitename.talktalk.net
Enter your username and password and click Log On
Note: yoursitename, username and password are those you created when you set-up your webspace account.
The first time you log on to your webspace you will see a blank screen, as no files have been uploaded yet. To upload these files, drag them from your computer and drop them into the Internet Explorer window
Once the files are uploaded, you can check your website by entering the web address into your browser: eg, http://www.yoursitename.talktalk.net




Uploading a page using Windows File Explorer:

Note: yoursitename, username and password are those you created when you set-up your webspace account.

Open Windows File Explorer and enter ftp://www.yoursitename.talktalk.net in the address bar.
Enter the username and password and click Log On.
The first time you log on to your webspace you will see a blank screen, as no files have been uploaded yet. To upload files, drag them from your computer and drop them into the File Explorer Window.




Uploading a page using an FTP (Filer Transfer Protocol) client

If you wish, you can upload your website using an FTP program. The details you will need to connect to your webspace vian an FTP program are as follows:

Host: The web address you setup, for example www.yoursitename.talktalk.net
Username: The username chosen when setting up your free webspace, for example yoursitename@talktalk.net
Password: The password you created when setting up your free web space.
Port: 21

Example of free FTP clients:


FileZilla Open source software distributed free of charge under the terms of the GNU General Public License - http://filezilla-project.org

Connect to the site using the details above then use the FTP client like your Windows File Explorer. Drag a file from the server from your computer to upload, drag and drop files from the server to your local computer to download, click on a file on your computer or the server and Delete to remove the file.

Once the files are uploaded, you can check your web site by entering the web address into your browser: eg http://www.yoursitename.talktalk.net